Dr. Arash Calafi
Orthopedic Surgeon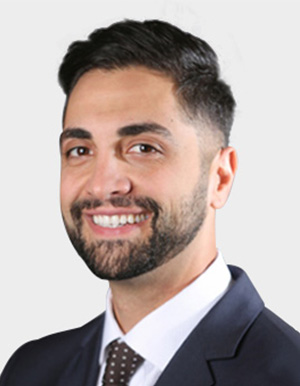 Dr. Calafi is an orthopedic surgeon specializing in lower extremity, especially foot and ankle reconstruction, sports injuries, and trauma. A Southern California native, he spent much of his training away but is delighted to be back in the area where he grew up. Dr. Calafi earned his bachelor's degree from the University of California, Berkeley with highest distinction and then spent one year at the Max Planck Institute in Munich, Germany conducting research pertaining to bone and cartilage biology. He then attended medical school at the University of California, San Diego. While in medical school he spent another year abroad at the world famous Charité – Universitätsmedizin in Berlin, Germany doing orthopedic research, and subsequently, a traveling surgical fellowship at Charité Hospital where he learned different approaches and techniques for lower extremity surgery. He then completed his orthopedic surgery residency at the University of California, Davis where he was elected a Chief Resident and "Resident of the Year". To receive further sub- specialized training in foot and ankle surgery, including an extensive experience in ankle replacements, he pursued a fellowship at the University of Washington, Harborview Medical Center in Seattle. In his free time he enjoys running, rowing, and biking and is a big film enthusiast. He is fluent in Persian and conversational in German.
Orthopedic Specialists of North County (OSNC), was founded in Oceanside in 1965 and incorporated in 1973. Over the years, we have treated multi- generations of families, including parents, grandparents and great-grand-parents for their orthopedic injuries and ailments.
Our 14 board-certified physicians care for accident, sports – or work-related injuries, replacing total joints, or relieving chronic or acute pain. They give patients more lifestyle choices by offering the latest procedures, to help them stay active. For the convenience of their patients OSNC also offers services such as imaging, urgent care and physical therapy to help patients recover; regain body strength quicker with less locations to visit.
2018-Current

Foot & Ankle Fellowship
University of Washington, Harborview Medical Center

2013-2018

Orthopedic Surgery Residency
University of California, Davis
- Elected Chief Resident 2017-2018
- Outstanding Resident of the Year 2017-2018

2008-2013

University of California, San Diego School of Medicine
Doctor of Medicine

2005-2007

University of California, Berkeley. Berkeley, CA
Major: Molecular and Cell Biology (Cell and Developmental biology emphasis)
- Graduated with Highest Honors in general scholarship (Summa Cum Laude), and Departmental Honors
- Senior Honors Thesis and Honors Program

2003-2005

University of California, Irvine
Biological Sciences

1999-2003

University High School. Irvine, CA
High School diploma
Graduated with California Scholarship Federation honors
2017 - 2018

Chief Resident, UC Davis Medical Center Department of Orthopedics
Nominated by residents and faculty committee. Roles included: establishing the monthly on-call schedule for the department and maintaining appropriate resident coverage at all times, coordinating weekly resident didactic sessions, monthly Journal Club meetings, spring anatomy sessions, and organizing and leading OITE review sessions. Participated in residency application review and interviews. Represented residents at departmental, hospital, and other meetings. Established policies with Program Director Education Programs manager to improve resident processes.

2011-2012

Julius-Wolff Institute of the Brandenburg Center of Regenerative Therapies (Charite — Universitiitsmedizin Berlin, Germany)
Research conducted with Dr. Britt Wildemann investigating in-vivo sustained-release models used for antibiotics and growth factors for orthopedic implant applications. The ultimate goal of this work is to prevent implant-related infections and improve fracture healing in trauma patients.

2009

Moore's Cancer Center (UC San Diego) Summer Research Fellow (Cheresh Lab, La Jolla, CA)
Under a NIH medical student grant, I investigated the role of micro RNA 132 in regulation of Ras GAP (RASAI) and its cell-signaling effects on tumor angiogenesis.

2007-2008

Max Planck Institute for Biochemistry (Fassler Lab, Munich, Germany)
Under a year-long DAAD scholarship, l conducted research with Dr. Attila Aszodi, investigating the role of Rho GTPases in growth plate formation and subsequent bone development. We created a transgenic mouse model using the Cre-lox system to selectively knockout RhoA in cartilage.

2006

UC Davis Medical Center Internship in Orthopedic research (Reddi Lab, UC Davis)
Completed a project titled: "Insulin and Insulin Like Growth Factors (IGF-1 and II) and Its Supplement Regulate Superficial Zone Protein (SZP) In Articular Cartilage Surface Chondrocytes."

2005-2007

Undergraduate Researcher in Molecular Biology (Schaffer Lab, UC Berkeley)

Involved in research project dealing with HIV Clad diversity and viral stochastic behavior
Skills involved include flow cytometry, cell culture, bacterial cloning. and genetic engineering techniques
Completed Senior Honor thesis entitled "Molecular Mechanisms of HIV-1 Latency: Stochastics in Gene Expression and Chromatin Regulation"
Calafi A, Skaggs A, Shelton TJ, Haus BM. Bilateral Destructive Hip Disease from Untreated Juvenile Idiopathic Arthritis: A Case Report. Accepted for publication in Case Reports in Orthopedics
Monazzam S, Williams KA, Shelton TJ, Calafi A, Haus BM. Anterior Center-Edge Angle on sagittal CT: A comparison of normal hips to dysplastic hips. Hip int. 28(5)L 535-541 (2018)
Singh A, Calafi A, Diefenbach C, Kreulen C, Giza E Noninsertional Tendinopathy of the Achilles.Foot Ankle din. 22(4):745-760 (2017)
Back DA, Bormann N, Calafi A, Zech J, Garbe LA, Muller M, Willy C, Schmidmaier G, Wildemann B. Testing of antibiotic releasing implant coatings to fight bacteria in combat associated osteomyelitis-an in-vitro study. Int Orthop. 40(5):1039-47 (2016)
Calafi A, Bormann N, Scharnweber D, Rentsch B, Wildemann B. A new concept for a drug releasing modular scaffold. Mater. Lett 119:119-122 (2014)
Burnett .1C, Lim K, Calafi A, Rossi J, Schaffer DV, Arkin, A. Combinatorial Latency Reactivation for HIV- I Subtypes and Variants. J Virol. 84(12): 5958-5974 (2010)
Abstracts
Monazzam S, Williams K, Calafi A, Shelton T, Haus B. Normal anterior center edge angle on Sagittal Computed Tomography: A study of 320 patients Publication Status: POSNA 2017 Poster
Monazzam S, Calafi A, Haus B. The Use of Preoperative 3D Modeling and Printing for guiding Peri Acetahular Ostcotomy in Hip Dysplasia. Status: POSNA 2017 Poster
Poster Presentations
Calafi A, Anand S, Cheresh D. Characterization of targets of an angiogenic microRNA, mir-132, in human endothelial cells. UCSD NIH Medical Student Conference. 2010, January 7, La Jolla, CA.
Calafi A, Chiu S, DuRaine G, Yamane S, Reddi AR Insulin and Insulin-like growth factors (IGF-I and II) and its supplement regulate superficial zone protein (SZP) in articular cartilage surface chondrocytes. 5th Annual California Tissue Engineering Meeting. 2006, September 15-16. Davis, CA
2018

Outstanding Resident of the Year, 2017-2018 (UC Davis Department of Orthopedic Surgery)

2018

Outstanding Senior Resident Research Award (UC Davis Department of Orthopedic Surgery)

2011

DAAD (German Academic Exchange Service) Graduate Scholarship (Julius Wolff Institute, Berlin)

2009

NIH Medical Student Summer Research Award

2007

Phi Beta Kappa Honor Society Induction

2007

I.L. Chaikoff Award for Neurobiology and Cell & Developmental Biology WC Berkeley)

2007

DAAD (German Academic Exchange Service) Undergraduate Scholarship (Max Planck Institute, Berlin)

2006

UC Davis Medical Center Orthopedic Research Grant

2003-2005

Big West Scholar-Athlete (men's crew), UC Irvine

2003-2007

Dean's Honor List, UC IrvinelUC Berkeley